Blog
Comparison between 201 and 304 stainless steel
Dear valued customers,
Could we ask if you have strict quality demand on kitchen equipment which was made of stainless steel? Do you know what is the difference between 201 and 304 s/s ?
INEO can give you the answer :
201 stainless steel :
Acid proof & alkali proof with high density, it is the good material for metal cover & lid product and also the nice material for case's surface such as kitchen refrigerator.It is widely used in decoration tube, some industrial pipe or kitchen s/s product such as sinks,shelves.
304 stainless steel :
304 is the model named by American, it was produced strictly and it meets Amercian ASTM standard. Japanese called it SUS 304 .Compare to 201, 304 has more advantages.
1. Strong rust-preventing ability and high temperature resistance [ Max : 650°C ]
2. High performance of anti-corrodibility for organic & inorganic acids.
We must say 304 stainless steel is the wonderful material for kitchen equipment.
Our concerning :
Maybe you will encounter such a supplier who tell you they can provide you with kitchen equipment made of 304 but eventually they just produce your request product with 201. But nothing you can say if you don't know how to recognize it. Frankly speaking, we sincerely hope every customer can buy good quality product from China.
Solution:
INEO would like to tell you that there is a kind of pharmaceutical liquid which can recognize 201 and 304. The picture is showing one of our Lebanon customers who is using the chemical liquid to test the stainless steel,if the s/s is 304, there will be no reaction. If the color change into red within 3-5 seconds, then it proves that it is not made of 304 s/s, it should be 201 s/s or other bad quality material. We can provide you with this chemical liquid to test our product. Thank you !
Trust INEO, the professional kitchen equipment supplier who do business with each customer honestly.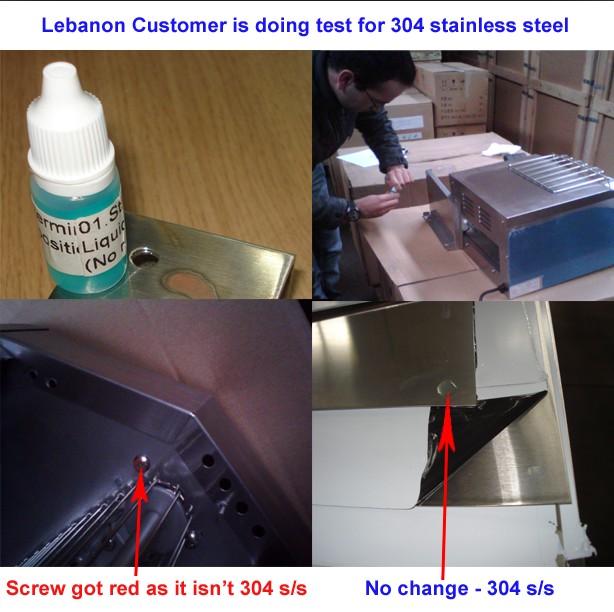 Guangzhou INEO Kitchen Equipment Co., Ltd.
NO.18,The 3rd Huancun Street,Xiaoluo,Panyu,Guangzhou,511490,China

511400
86-18675953400
86-20-39292071
86-20-39292498